Bitcoin (BTC) fell to $34,300 overnight on Feb. 24 as geopolitical tensions in Europe boiled over. 
"Arguments both ways" for BTC price outlook
News that Russia had launched a "special military operation" in Ukraine sent BTC/USD tumbling along with traditional markets, data from Cointelegraph Markets Pro and TradingView showed.
In a move which seemed to catch markets by surprise, reports were flowing in of a feared three-pronged attack on Ukraine at the time of writing, with the West already promising more severe sanctions as a result.
Bitcoin, already trading in line with stocks instead of acting as a safe haven, thus showed uncertainty of its own, declining over 12.2% from Wednesday's local highs to hit $34,300.
Asian stocks were already feeling the pressure, with Hong Kong's Hang Seng index down 3.5% and the Nikkei reaching a 15-month low.
As traders waited to the see the full impact on European and United States stock markets, Bitcoin market participants took stock of what the geopolitical events could mean for the largest cryptocurrency.
"So there are arguments both ways for what should be happening to BTC right now. I'm not really sure I would have guessed it would go down based on the fundamentals. But it is down, a lot! Why?" Sam Bankman-Fried, CEO of trading giant FTX, queried in a series of tweets Thursday.
"Well, let's say there are 2 types of people in the world: fundamental investors and algorithm followers. Fundamental investors look at the situation and are uncertain which direction BTC/USD should move. Algorithm followers consult the data. Historically, what's the trend?"
He added a warning that the Ukraine saga could be financial consequences even for its EU neighbors' financial robustness and that "alternatives" may have a place in their strategies.
At the time of writing, BTC/USD was attempting to make up for some of its lost ground, having so far remained above January's low of $32,800.
Ruble pain faces Russian consumers
In Russia, meanwhile, the central bank announced that it would be intervening in the currency markets after the ruble hemorrhaged value due to the latest developments.
Related: Price analysis 2/23: BTC, ETH, BNB, XRP, ADA, SOL, AVAX, LUNA, DOGE, DOT
USD/RUB circled 87 Thursday, having sat at 80 the day before. MOEX Group, the firm behind the Moscow Stock Exchange, halted trading.
Consumer exchange rates were considerably more volatile, with indices showing 115 rubles or more per dollar for those seeking to buy USD on the open market.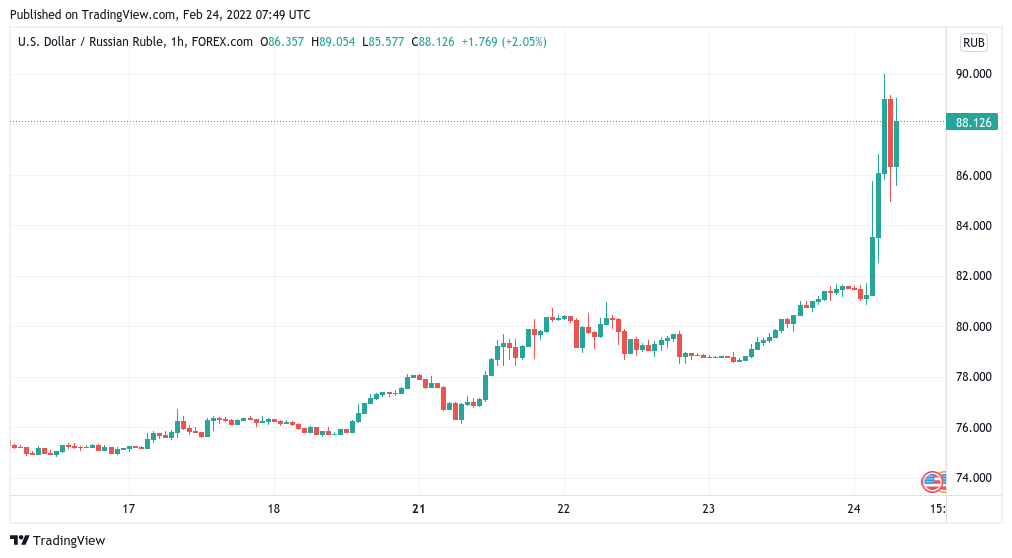 Reacting, Alex Gladstein, chief strategy officer at the Human Rights Foundation, well known for this pro-Bitcoin stance, cast scorn on the political apparatus of the fiat money system.
"Sickening how leaders abuse their power over fiat currencies — on which all of their citizens rely on and earn in — for war," he wrote.
"Whether by printing press, national credit card, or in this case, undertaking action likely to be punished by the international markets."
In Ukraine, the central bank took action to ban foreign currency cash withdrawals, sources were reporting.