A technical setup that preceded a circa 80% price rally in the Terra (LUNA) market in August 2021 has appeared again.
LUNA paints bullish MACD crossover
The technical setup involves a so-called "signal line crossover" between LUNA's weekly MACD line — equal to the difference between the token's 12-week and 26-week moving averages (MA) — and the 9-week MA called the Signal Line, plotted above the zero line, as shown in the chart below.
Together, these lines represent Moving Average Convergence Divergence (MACD), a momentum oscillator to determine a market's direction and momentum.
So, if the MACD line crosses above the signal line, markets interpret it as a bullish MACD crossover. Conversely, a bearish MACD crossover occurs when the MACD line falls below the signal line.
LUNA's weekly MACD line closed above its signal line earlier this month, raising speculations about a strong bullish momentum ahead. For instance, independent market analysts "Argonauts" cited a similar bullish crossover from August 2021 that occurred before the Terra token's circa 80% price rally — from $12 to $102.
Something is up on $LUNA weekly timeframe. Last time the MACD crossover occured it sent $LUNA from $12 to $106. #luna #nfa pic.twitter.com/9TYyGmp88j

— Argonauts (@terra_hodler) March 20, 2022
Bearish divergence detected
The MACD-based bullish outlook in the Terra market also stems from LUNA's incredible price performance in the last thirty days.
Notably, LUNA's price has surged by nearly 90% after bottoming out at $47.25 on Feb. 20, now eyeing a run-up above $100.
Nonetheless, the Terra token's strong upside move accompanies a decreasing momentum, as illustrated by its weekly relative strength index (RSI), and weakening trading volumes, suggesting bullish exhaustion is close.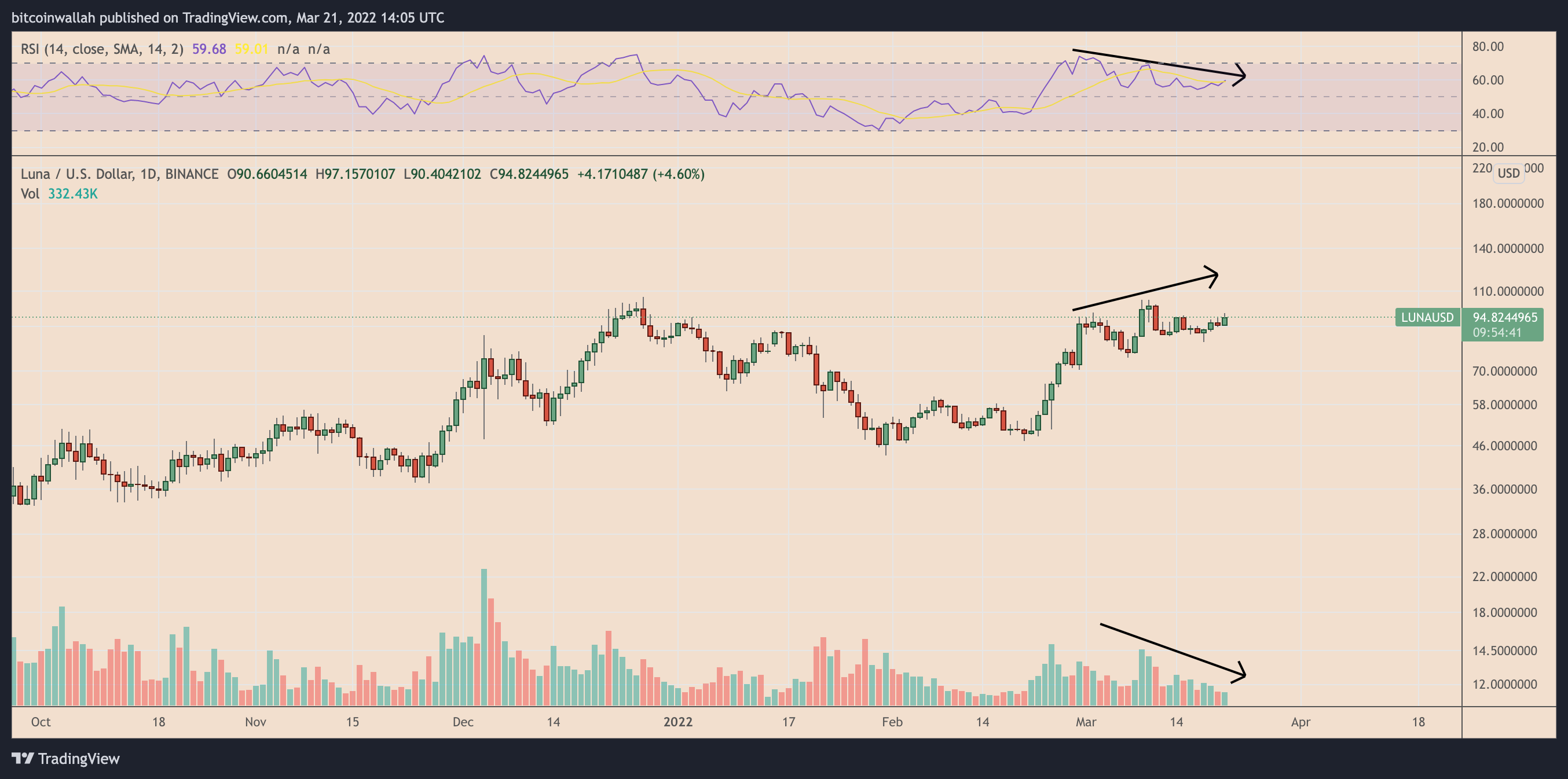 Therefore, a pullback from levels near $100 could have LUNA retest its previous resistance-turned-support levels near $75.50 and $50, coinciding with the 0.236 and 0.5 Fib lines, respectively, of the Fibonacci retracement graph attached below.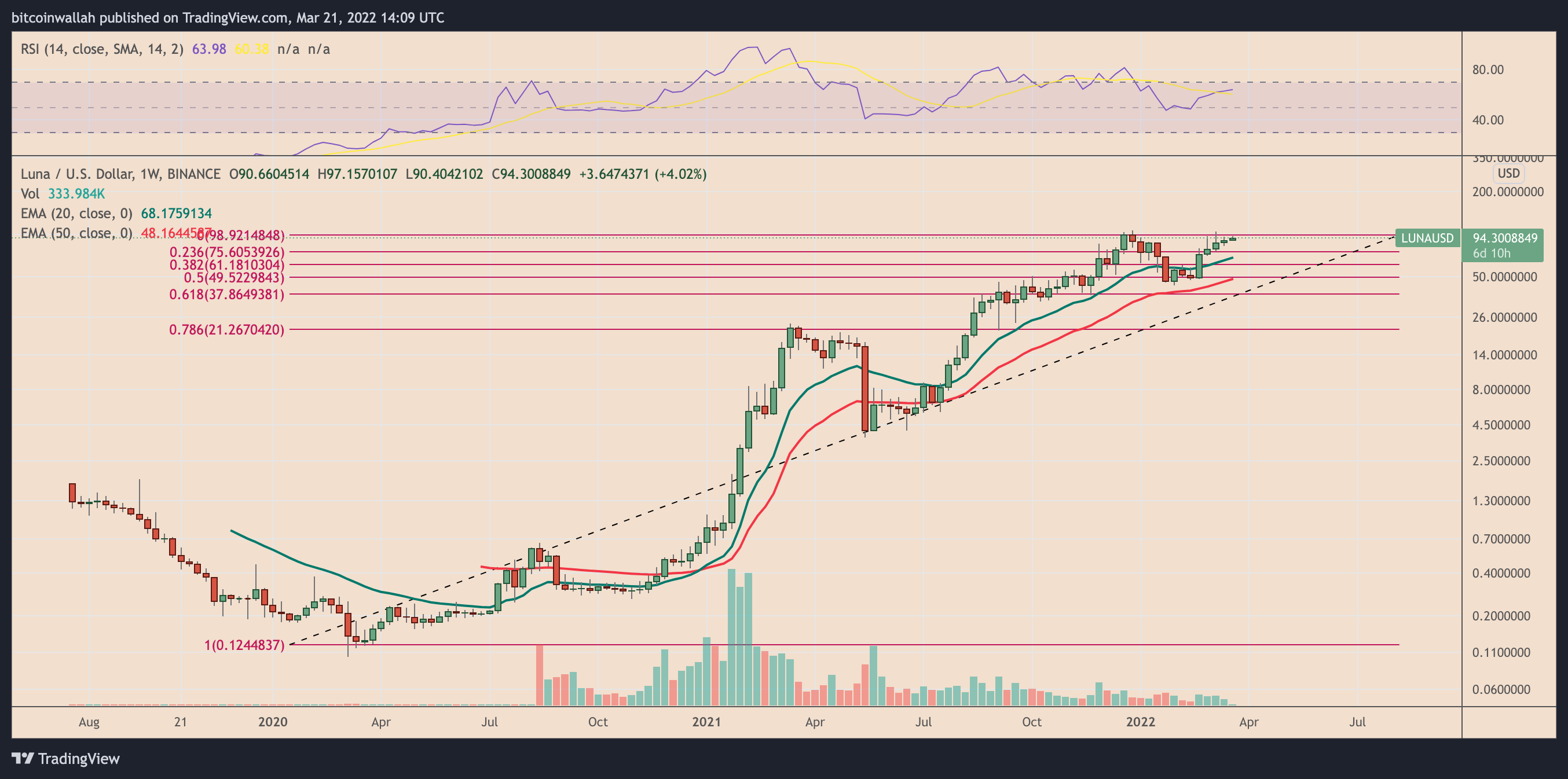 LUNA price double-top risks
LUNA's close above its previous record high of around $106 could have it enter unchartered territory with a Fibonacci retracement graph drawn from $102-swing high to $45.50-swing low, suggesting an extended upside move toward $138.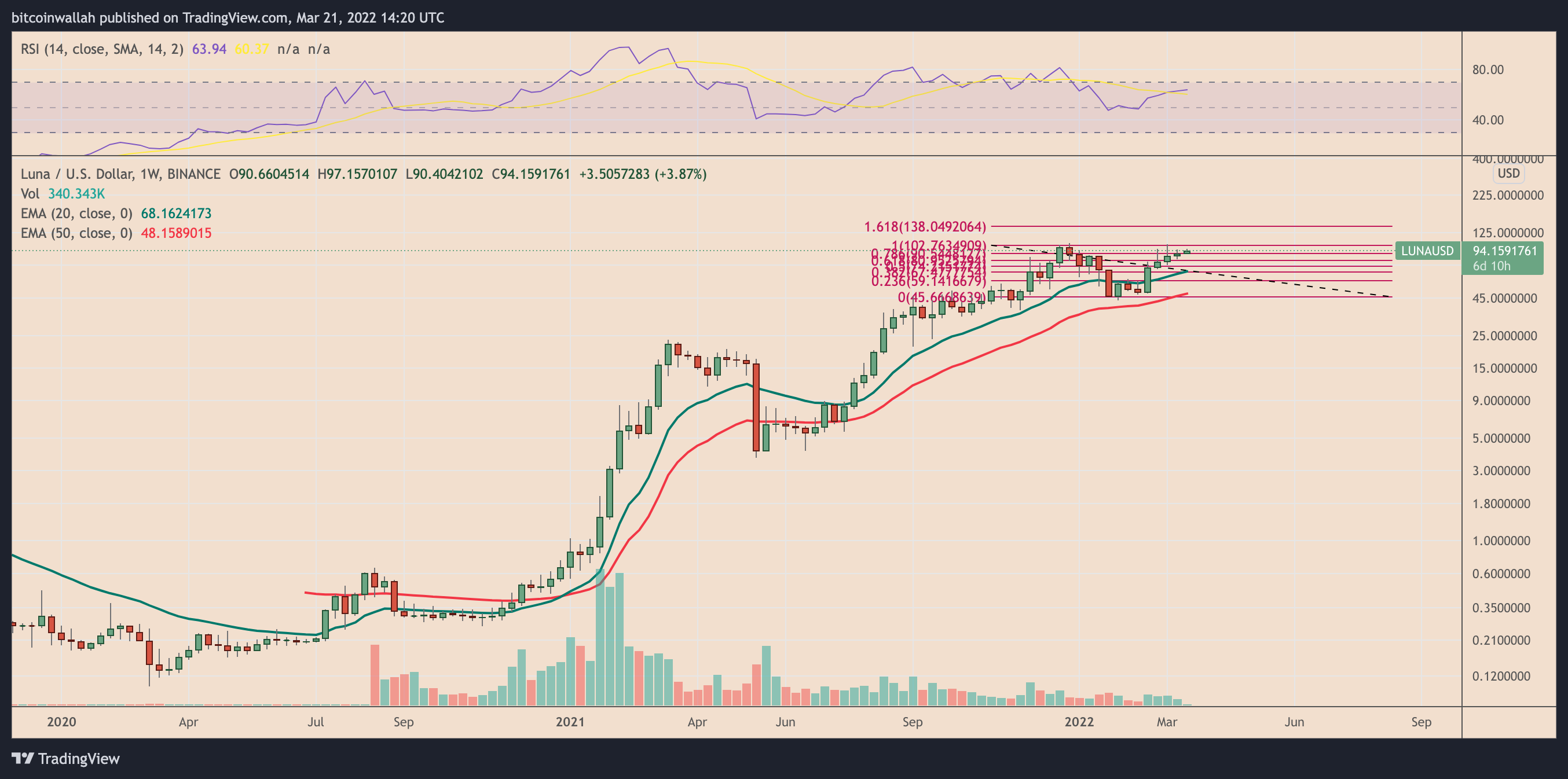 Related: 'We're already buying:' Terra founder plans to obtain $10B BTC for reserves
On the other hand, a pullback move from levels near $100 could also trigger the classic double-top setup, which entails two high points in the market, signifying an impending bearish reversal signal. LUNA could paint one in the coming weeks, as shown in the chart below.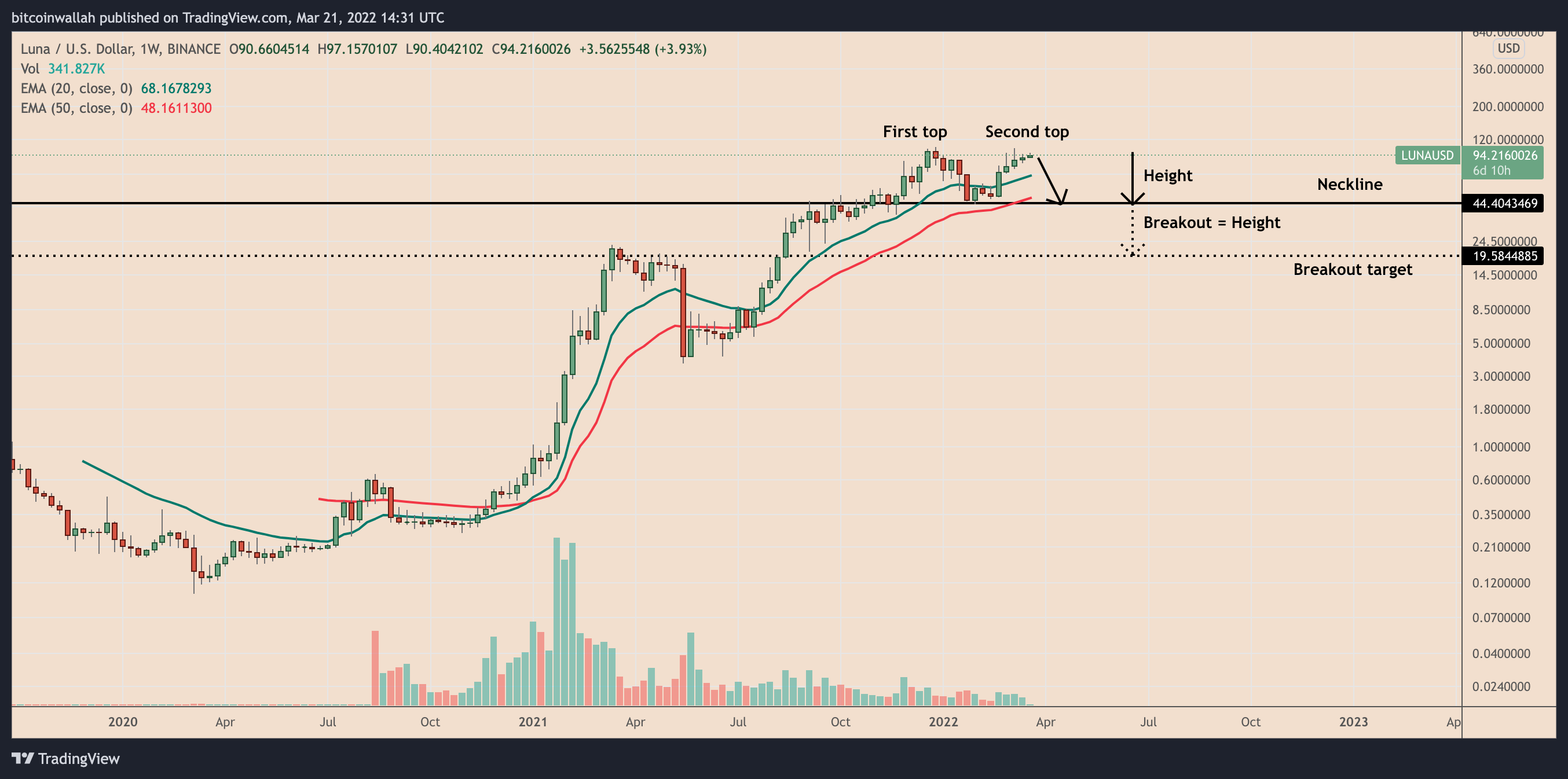 In a "perfect" double top scenario, the Terra token would risk crashing by more than 50% to $44 on the next pullback, followed by a breakout move towards $19.50, also coinciding with LUNA's 50-week exponential moving average (the red wave). 
The views and opinions expressed here are solely those of the author and do not necessarily reflect the views of Cointelegraph.com. Every investment and trading move involves risk, you should conduct your own research when making a decision.